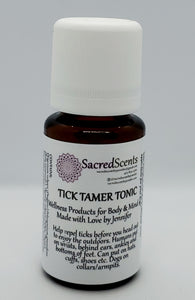 Tick Tamer Tonic
Help repel ticks before you head out to enjoy the outdoors. Oregano oil contains cedrol and ticks don't like this. Rose Geranium- ticks can't stand the smell so they stay away. Thyme has carvacrol and ticks don't like that either. Eucalyptus is to make it smell good! Humans put on wrists, behind ears, ankles  and  bottoms of feet .Put on clothing, in cuffs, on hats etc. 
*If putting on your dog, please make sure you check with a professional who is educated  in EO application for your dogs* Apply on the collar, armpits and as well as toes. A couple drops will do for both humans and dogs. This blend is *diluted* in 2 different carrier oils. Neem oil is a natural tick repellent and olive oil is good for skin.
Ingredients: Origanum vulgare (Oregano),Pelargonium graveolens (Rose Geranium), Thymus vulgaris (White Thyme), Eucalyptus radiata (Eucalyptus Radiata), Azadirachta indica (Neem Oil), Organic Olive Oil (Olea europaea).
---
We Also Recommend