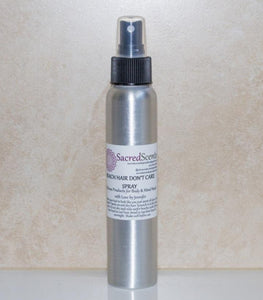 Beach Hair Don't Care Spray
Want your hair to look like you just spent all day at the beach? This spray will moisturize and give you full-body wavy hair. Smells great too. Sea salts, Lavender, Spearmint, Mandarin Jojoba Oil and Coconut Oil combined will nourish your hair and make you feel like you live at the beach! Spritz onto wet or dry hair. Scrunch it at the roots, leave it to air dry and viola surfer beachy curls! If you have hard to curl hair, spritz, braid or top knot overnight.
Ingredients: Lavender, Mandarin, Spearmint, Dead Sea Salts, Fractionated Coconut Oil, Distilled Water.
---
We Also Recommend