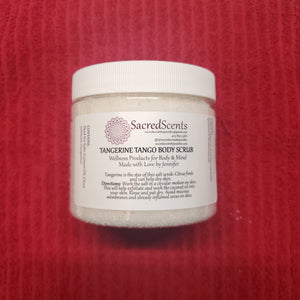 Tangerine Tango Body Scrub
Tangerine is the star of this salt scrub. Smells so good and can help with dry skin. Dead Sea Salt is known for its detoxifying benefits and Himalayan salts are nourishing.
Directions: Work a tsp of the salt in a circular motion on skin. This will help exfoliate and work the coconut oil into your skin. Always work in an upwards motion towards the heart. Rinse and pat dry. Avoid mucous membranes and already inflamed areas on skin.
Ingredients: Dead Sea Salts, Himalayan Salt, Fractionated Coconut Oil, Citrus reticluata (Tangerine)